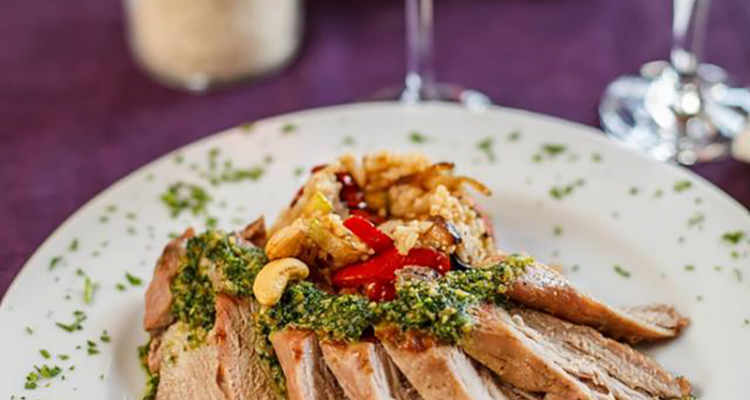 Good wines blend with good food, and there is plenty of good food is Syrmia. It is hard to count all the places in Syrmia where you have to stop and grab a bite. We will put focus on just a few of them…
"The tastes of Syrmia and Slavonia" is a quality label which eight restaurants in Vukovar-Srijem County own, and these are Villa Lenije and restaurant Orion in Vinkovci, restaurant in hotel Lav in Vukovar, hotel Dunav and Ilok Wine celars in Ilok, restaurant Aquarius in Bošnjaci, restaurant Gondola in Sotin and Acin salaš in Tordinci.
This project is made in cooperation with county association of chefs and ethnologists, and their ultimate goal was to valorisation of traditional gastronomy as a tourist resource. These restaurants offer a wide range of interesting delicacies. So, in Aquarius you can try river fish perkelt (fishstew) with cream and polenta and bream prepared in an old-fashioned way, in hotel Dunav you can try chicken breast with sataraš (vegetable stew), and in hotel Lav for dessert you can try čikmaš with cream. Those are potato dumplings or šufnudle which people from Syrmia gave the local name.
In Vojvodina part of Syrmia there are many restaurants and čardas (tavern), and the one which enchanted me especially was "Naša čarda" in Sremski Karlovci. This čarda is operated by the local angling society, which is the best guarantee that the served fish is always fresh. Apart from fresh fish, you can also enjoy marinated fish and fish pate.
One special story is a restaurant complex Vidikovac in Ledinci. Their specialty is trout filled with cream and almonds. One must also mention Perkov salaš in the village Neradin, which is a half hour drive between Krušedol and Irig. The owner Perko often welcomes his guests in a traditional costume, offering home-made bread with lard and paprika. I can count infinite number of Syrmian restaurants, but you should visit them yourselves and enjoy the delicacies they offer.
Ilok is famous for its vineyard ćevap (kebab), and its eastern counterpart, Sremski Karlovci is famous for cake kuglof, and the best is made in Karlovci in a workshop Gea. They even opened a kuglof museum, and produce it with cocoa, almonds, hazelnuts and raisins. The best sorts of kuglof are old-fashioned, colourful, marble and of course, wine kuglof.