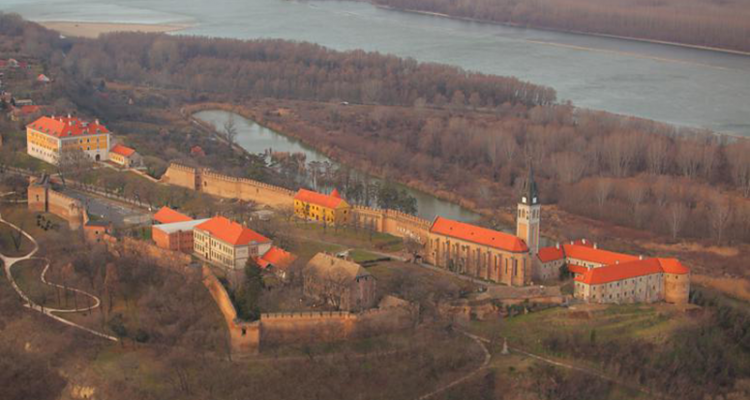 CULTURAL HERITAGE
The Eltz castle in Vukovar, which seats the town museum, is an excellent example of baroque-classicist architecture. Medieval town core of Ilok is a historical complex of the highest category. Aristocratic family Odescalchi built a castle with a wine cellar; today the town museum found its residence there, and the wine cellar is owned by the company Iločki podrumi d.d.
One should also mention their mansion Principovac which shines in its full glow after it had been renovated. The remainders of the Turkish hamam (baths) and turbe (mausoleum) give evidence of the former Ottoman reign in this area.
Fruška gora is considered Serbian Atos, and over thirty monasteries are situated there. The monastery Novo Hopovo has a half a millennium-long tradition and it keeps the relics of St. Theodor Tyron, whom both the Catholics and the Orthodox worship. The monastery Krušedol is also five hundred years old, it was established by autarch Đorđe Branković, and Arsenije III Čarnojević, who started the great migration of Serbians from Kosovo to Pannonia, as well as Serbian king Milan Obrenović were buried there.
When talking about intangible cultural heritage we should definitely mention bećarac (folk song) which is included in the UNESCO list of intangible cultural heritage of humanity. It is widely spread both in Croatian part of Syrmia, as well as in Serbian part of Syrmia, where it is sung not only accompanied by tamburitza but also by accordion. In Šid you can find gallery of paintings by Sava Šumanović, and the poet Antun Gustav Matoš was born in nearby village Tovarnik.
ACTIVE VACATION
Syrmia is ideal for all types of active vacation, especially for cyclotourism. The bike route Eurovelo 6, which connects the Atlantic with the Black Sea, passes through Syrmia. The manager of the winery Krešić, Franjo told us an interesting anecdote about his experience with cyclotourists. Two pairs of French cyclotourists travelled from Sochaux to the Black Sea and stopped for some refreshment to his winery. Franjo boasted to his guests that his son, as he was playing for FC Paok, played in Sochaux and then his club won 2:0 against the home team. One of the guests remembered the game well and said that it was a painful memory for him. It turned out to be the owner of Michelin, which was the sponsor of the club from Socahux. He praised his son for a good game and gave him a set of new car tyres.
Serbian part of Syrmia is also excellent for cyclotourism, and National park Fruška Gora is full of cycling and hiking paths. One should also mention ecological centre Radulovački in Sremski Karlovci, which offers a wide spectre of outdoor recreational activities. There is also a special nature reservation Zasavica, which is on the right bank of the Sava river, but this area also used to be called lower Syrmia.
Syrmia is a unique historical region which is presently divided between two countries, Croatia and Serbia. In order to meet Syrmia truly one should visit both its parts, eastern and western. As there are four border crossings in the area of Ilok, this is not a problem. Bicycle is ideal for that. You are too slow if you walk, and if you drive, you are too fast. An ideal option to visit natural and cultural sights is on two wheels, and then regain strength with Syrmian delicacies and Syrmian wines. From Vukovar to Stari Slankamen there are 120 kilometres in one direction, which is a great route for a weekend break. From Ilok to Sremski Karlovci there are less than sixty kilometres which can be a one-day trip. This route is excellent for a circle tour which would go along the Danube in one direction, and in the other on the ridge of Fruška Gora.