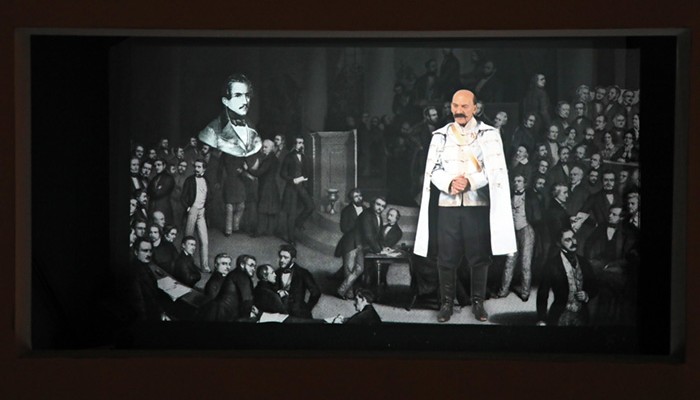 In Vukovar-Srijem county they know how to present historical facts in a modern and interesting way. Here, for the first time in Croatia, they "revived" famous persons. Not one, but three!
Meet them live! Nobel Prize winner Lavoslav Ružička, ruler Nikola of Ilok and governor Josip Šokčević. The three of them await the visitors in Vukovar, Ilok and Vinkovci, telling stories of their towns, way of life and their achievements… How is it possible, the older among you will ask, but the younger already know that they are holograms, the wonder of modern technology.
Because of him we adore perfumes
In one of the rooms in birth house of  Lavoslav Ružička in Vukovar, this chemists – whom we, today, for example, can thank for enjoying fine perfumes or why we learn in school about the synthesis of sexual hormones – welcomes visitors to his hometown. After that in twelve minutes he tells the story about his rich life, from a humble boy from Vukovar to a Nobel Prize winner. If you have not been to his birth house we will reveal that he received this highest recognition in 1939 for his work "Polymethylene and higher terpenes", a the latter are very interesting in the above mentioned perfume industry. Maybe you can find all of this on Google, but – you have to admit – meeting Ružička in 21st century (more than forty years after his death) is a special experience.
Two marriages, eight children…
In the centre of Ilok in Brnjaković manor you will meet Nikola of Ilok. Ilok had its gold era during his reign. Besides numerous wars with Ottomans – which he kept far away from Europe for all his life, his own money – "silver denars" – with first display of coat of arms in checked red and white fields, the "revived" ruler of Ilok tells the story of his two marriages. You will learn that he had eight children, but only one son outlived him, and he will also tell you about the dreadful plague that devastated half of Europe…
If I cannot do as I want, I will not do it as others want
In Vinkovci Town museum you will be welcomed by – Dika. This is how people called the governor Josip Šokčević in 19th century. He earned this nickname with his work and legacy this region praises even today. He set the economy in motion, built the first railroads in Croatia, introduced Croatian language into administration and schools, supported Illyrian movement… He will tell you the story of the revolutionary 1848 – that was, as he said, the battle of his life, because his goal was to riot in Venice, where there was the point of resistance against the Austrian authority. Šokčević also reveals what happened upon his initiative on the spot of today's Croatian national theatre in Zagreb and why did the coronation of the emperor Franz Joseph "cost him his head"… Are you interested? It would be best if you head to Vinkovci and find out from first hand, but we have decided to share that with you. First Dalmatian-Croatian-Slavonian economy exhibition was held in Zagreb in 1864, and two years later governor Šokčević resigned because he felt played out by Austria, which after the war with Prussia made an agreement with Hungarians and left Croatians on their own to negotiate with Hungarians.
"I could not tolerate such injustice and I thanked for everything; because – If I cannot do as I want, I will not do it as others want… This is fairer and more honourable for me", said the favourite Croatian governor to his cousin.
Šokčević is – as we find out from is hologram – most responsible for liberalization of numerous civil rights, among which was the right to serve alcohol. And nowhere else in Syrmian and Slavonia will you find so many fragrant brandies and top-quality wines which celebrated Syrmian vineyards. In that honour, cheers!
What is ViCTour?
Holograms of historical persons were made within the tourist project Virtual and cultural tourism – ViCTour, which was co-financed by the means of Interreg IPA program of cross-border cooperation Croatia-Serbia 2014 – 2020. The value of this project is 920 thousand euros, in which the Vukovar-Srijem county, as its lead partner, participated with 280 thousand euros.