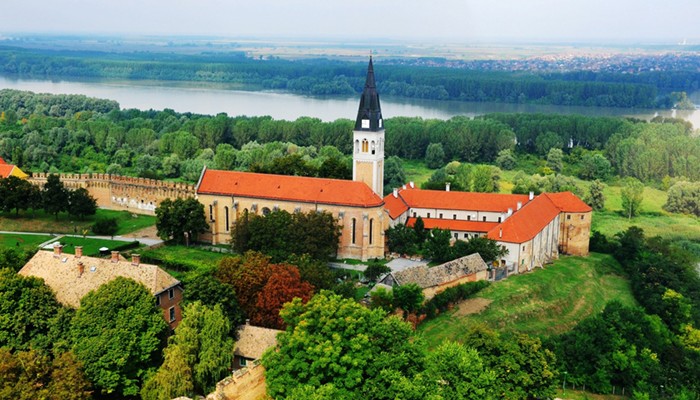 They call it "Danubian kingdom of wine and ancient things", it is well-known for its hospitality, and since recently there is a restaurant with a Michelin recommendation. You just have to visit Syrmian town of Ilok.
Meet Ilok, town with most beautiful sunrise, top-quality Traminac, one saint, mighty Danube and winegrowing Fruška gora. You will be delighted with its historical core built in the 15th century by the ruler Nikola of Ilok. We bring you four interesting stories of this easternmost Croatian town, its famous eno-gastro oasis and attractive tourist destination.
Wines were bottled here before Bordeaux and Burgundy
Did you know that the noble family Odescalchi in their Old wine cellars in Ilok bottled wines into special packages, even two hundred years before Bordeaux and Burgundy? That way they protected the reputation from middlemen who mixed t with water or with wine of poorer quality. The wine from Ilok was praised from ancient times in many European courts, and Traminac from Ilok was served at the coronation of queen Elisabeth II sixty years ago. Well-informed say that this reign sort gave its maximum exactly here in Syrmian vineyards. With around twenty wineries on the wine route, Ilok today is inevitable destination for all those keen on wine, who will not miss the visit to the Old wine cellar and Principovac, former summer house of the Odescalchi family in the heart of the vineyard.
Ilok has one saint
John of Capistrano was not born In Ilok, he spent only a couple of months of his life there, where he died on October 23, 1465, but inhabitants of Ilok specially love and respect him. He was born in Capistrano in Italy, he was an excellent law student, city judge, even city administrator. He ordained in 1415, on feast day of S. Francis, and two years later he became a priest and an excellent folk preacher. He travelled through many countries of the then Europe, and Nikola of Ilok, under whose lead the Ottoman army was stopped near Belgrade, called him to Ilok. The legend says that in the eve of the battle Joh of Capistrano saw a fire arrow in the sky and that moment he knew that Christian army, which was outnumbered, would win the Ottomans. After his death he was buried in a church in Ilok, which today bears his name, but his relics disappeared in 1526 and were never found.
Winner of EDEN title
Along with Vukovar and Vučedol, Ilok is a national winner of the European destination of excellence which was awarded in 2016 and 2017 for the theme of cultural tourism. The walls of Roman fortress Cucciuma, preserved fortress from the 14 and 15 century – former seat of Nikola of Ilok, governor of Croatia and king of Bosnia, the church and sanctuary of Saint John of Capistrano, rare Roman monuments – turbe and hammam from the time of Suleiman the Magnificent, castle Odescalchi where today the Museum of the town of Ilok with a modern display on three floors is situated, and the old wine cellar, will delight the visitors of this peaceful Syrmian town, where the sun comes out first in Croatian horizon. It is a special experience to see and experience it.
First Michelin recommendation in the whole of Slavonia and Syrmia
A drive in a boat on the Danube is an experience one should not miss. Danube is everything to inhabitants of Ilok. Fishing, walking, riding a bike, swimming, tennis, Liska trail and Sultan trail … – keen lovers of active vacation simply enjoy. At the bank of the Danube river there is the restaurant of the same name which is the first one in Slavonia with a Michelin recommendation. There you can try excellent boneless fish soup, which was first served in this restaurant. Even though you can now taste it in other parts of Syrmia and Slavonia, the original recipe is a well-kept secret, so it is no surprise that it attracts gourmands, especially those who cannot resist kettle dishes.
Link to photos: https://app.box.com/s/jjhzdsrvccw7joys55zmsqdlmxgjndjs