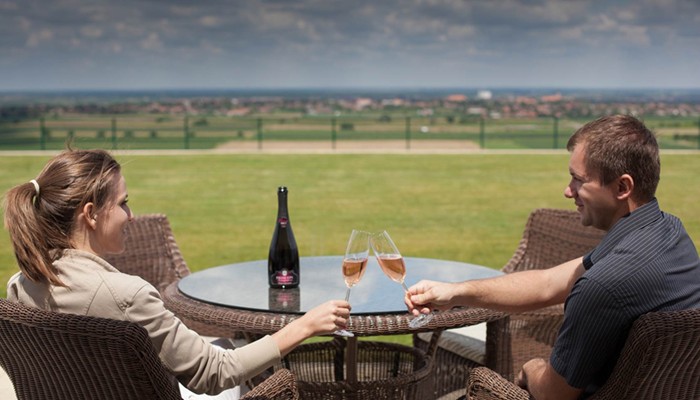 Light and easy-going just like Sylvaner, attractive like Chardonnay, verified like Riesling, surprising like Merlot, unique and unusual like Traminer – such is the journey through Syrmia and Slavonia
Why not start the story of Syrmian wines with an international sort, untypical for Syrmia and Slavonia? It is a surprise to your palate, light and delightful, just as the journey through this part of Croatia. A bit unexpected, intriguing, relaxing. Just like Čobanković Green Sylvaner from 2018.
Silent rulers of Syrmian vineyards
Winery Čobanković is an inevitable stop in Ilok wine route that curves through the town centre until the slopes of wine growing Fruška gora. There is the winery Trs. Its premium half-dry Chardonnay from 2017, but also the one from Iločki podrumi from 2016, are silent rulers of Syrmian vineyards. Such were ones the noblemen of Ilok who left rich cultural heritage to the town – the castle, medieval walls, old wine cellars from 15th and 18th century….
You can also take excellent Riesling in Syrmia, and one of them – Graševina (Riesling) Radosh from 2017 of the winery Papak captures with expressed scent. Mineral, complex, fresh with citrus notes, it will delight all lovers of this sort of wine.
Only the special one remembers for a long time
There is no mistake with the Riesling in continental Croatia, say those who only play it safe. Those who know more also want more from wine, they care about the style, personal touch of a wine grower, that special note that makes wine a special experience. The same is with travelling. Only the special one remembers for a long time. In search of that something special, come to Syrmia.
Among white wines of Syrmian vineyards, there is also a red one. Buhač's Merlot from 2016, smooth and soft wine is rich with fruit aromas of blackberries and blackcurrant, with a nuance of spicy notes, harmonious and round on your palate, with fine tannins and soft end. It reminds of harmonious Syrmian nature, beautiful forests and rivers.
Kings enjoyed it
The story is not complete without the royal sort, which gives its best results in this vineyard. It is Traminer, and it is known that the one from the Ilok wine cellar was served at the coronation of Queen Elisabeth II. Even those who do not prefer wine love its sweet varieties. Traminer of selected harvest from 2015 of the winery Dragun and Traminer of selected harvest of dried berries from 2011 of Ilok wine cellar are a real surprise for palate.
It is a special experience to see the sunset in Slavonia and Syrmia with a glass of premium wine, especially on the Danube or in the most famous wine growing locations in Ilok, Principovac and Vukovo, and those who know say that it is even more beautiful to see the sunrise, because it is, as they say, the most beautiful in Ilok.